S/V Ubiquity
Pacific Seacraft 34 Sailboat
---
Klashkish Basin, Vancouver Island, BC, Canada, at anchor before rounding the Brooks Pennisula: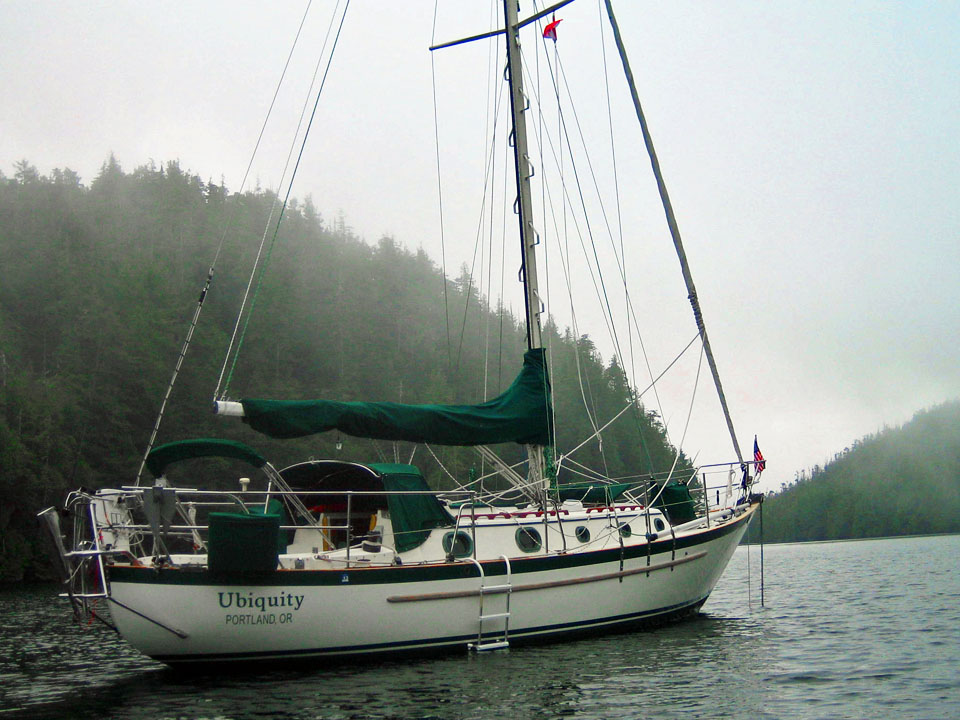 Ubiquity is a 1987 Pacific Seacraft 34 sailboat, hull #67. Designed by Bill Crealock as a smaller successor to the Pacific Seacraft 37, the Pacific Seacraft 34 is sometimes referred to as the "Crealock 34".*
I am outfitting Ubiquity for my post-retirement cruising plans. I bought her for her suitable design for offshore cruising, her excellent construction quality, and for the considerable cruising gear already on the boat.
For cruising, the design characteristics I like about the Pacific Seacraft 34 include:
Cutter rig, which provides a flexible sail plan, especially in high winds. Ubiquity has a quick-release staysail stay that is easily stowed, thus providing the best worlds of both the sloop and the cutter rigs.
Elongated fin keel underbody, including a slight bridge between the keel and the skeg and with the propeller in an aperture. The elongated fin keel I feel provides a good compromise between tracking stability and maneuverability for an off-shore boat. The slight bridge between the keel and the skeg shifts the design slightly more towards the traditional side of the full-fin keel continuum (compared to for example the Valiant design). The skeg is heavily built. The propeller in an aperture, combined with the slight bridge, protects substantially against entanglements, such as with crab pots.

Seaworthy hull dimensions/design. The maximum beam of only ten feet tells you that Crealock did not design her to be a "dockominium", whereas the limit of positive stability of 144 degrees tells you that Crealock did design her for serious offshore safety, stability, and seakindliness.

Canoe stern, which I feel, as the designer Crealock intended, aids control in strong following seas.

Stout opening portlights, providing both offshore security and ventilation at anchor and in the marina. Older Pacific Seacraft models like Ubiquity have oval bronze portlights, whereas newer models have rectangular chrome-plated portlights. The newer portlights incorporate better drainage, but I like the green patina of the bronze portlights, which also blends nicely with Ubiquity's green accent color.

Enhanced side-deck security from the bulwark, outboard shrouds, extra-high lifelines (plus Ubiquity has a modified stern pulpit extending further forward plus heavy 1/4" 1x19 lifelines), and handrails on a high cabin deck. I consider this a substantial safety consideration.

Good anchor platform. The stout bow rollers and other hardware, design of anchor locker and placement for a windlass, plus foredeck space and security make an excellent set-up for anchoring.

Size. I decided on a cruising boat size that was the smallest size that met my minimum space and carrying capacity requirements. Smaller boats lower costs and are easier to handle, especially when sailing short or single-handed.
My sailing experience with Ubiquity has impressed me with her virtues as an offshore boat, including her excellent tracking ability and easy motion in a seaway, combined with acceptable maneuverability in the marina and on the river. You can view video clips I took crossing the Columbia River Bar (view over the bow), crossing the Columbia River Bar (view of helmsman looking towards stern), broad-reaching off the Washington coast in heavy fog and 20+ knot winds, and sailing south from Barkley Sound, Vancouver Island, in beautiful sunshine. Whereas more performance-oriented cruisers would prefer a lighter fin keel / spade rudder design, and more traditionally-oriented cruisers would prefer a heavier full keel design, for me S/V Ubiquity seems like the sweet spot for serious offshore cruising, especially for an older person (that's what I am now, even though I don't feel like I am) cruising with no crew or perhaps one crew member.
Her specifications are approximately:
13,200 lb. displacement empty, 4,800 lb. elongated fin keel (external lead ballast)
full-skeg rudder, propeller in aperture, slight bridge between keel and skeg
34' 1" overall length, 26' 3" water-line, 10' beam
4' 11' draft per original specs., but about 5' 1" when loaded for cruising
47' total air draft (vertical clearance)
about 600 sq. ft. sail area in cutter configuration with working jib and staysail
6.9 knot, 7.9 mph hull speed
Tankage: 75 gal. water, 30 gal. diesel, 16 gal. holding
Yanmar 3HM35F diesel, 30 hp, auxiliary power
Her cruising sail inventory includes light-air sails to keep her moving in light air--a large asymmetric spinnaker (with dousing sleeve) and a drifter. For higher winds she has the staysail, two deep reefs (65%, 39%) in the mainsail, and a trysail (on a separate track) and storm staysail for very strong conditions. Her new mainsail is heavily made by Taylor Sails in Port Angeles. Counter to current trends, I decided on a battanless, roachless mainsail. Combined with Strong Track hardware for the luff, the mainsail hoists and drops very easily, allowing me to dispense with lazy jacks and instead of flaking the mainsail on top of the boom I roll it into a bunt and tie it on the side of the boom, as taught to me by my experienced cruising friend Dave Mancini, captain of S/V Swan, a sister ship to Ubiquity. Headsail options besides the drifter include a 135 genoa, a working jib,and a small high-clew Yankee that looks great when sailing as a cutter with the staysail.

Ubiquity has very stout bow rollers, befitting a serious cruising boat. Her primary ground tackle is a 44 lb. Rocna anchor (true weight 47 lbs.) on 210' of 5/16" high-test chain, with 210' of 5/8" 3-strand nylon that I spliced directly to the chain if more scope is desired. The vertical Muir windlass operates either manually or electrically. The manual mode using a winch handle works excellently, and I prefer the exercise of manually retrieving the rode. A Fortress FX-16 (aluminum Danforth-type anchor) serves as a stern anchor, backup anchor, and for kedging, with 300' 1/2" Sampson Super-Strong nylon double-braid plus 20' 5/16" high-test chain.

Pacific Seacraft 34 further information and reviews:

*As an aside, my friend Dave Mancini, an experienced cruiser and captain of Ubiquity's sister ship S/V Swan, reports that in a conversation he was privileged to have with Bill Crealock, Crealock discussed what he had learned from the 37 design that he used to refine the 34 design.
---
Sailing on the Columbia River in light winds, March 2013:
---
Sailing on the Columbia River for a meetup introduction to sailing class outing, 2012:
---
Flying asymmetric spinnaker (left), and beating (right) in very light air with the drifter on the Columbia River, sailing class outing, 2014:
---
Two photos (on left) of S/V Ubiquity sailing off Port Angeles in 2011, before she received her new white paint job (Photos taken by my friend Dave Mancini, sailing his sister ship, S/V Swan), plus one photo (on right) of S/V Ubiquity at the dock with Yankee and staysail hoisted:
---
S/V Ubiquity sailing as a cutter, early morning crossing of the Columbia River Bar, October 2012:
---
On the hard, showing her underbody design with elongated fin keel, slight bridge to the skeg, propeller in an aperature, skeg-hung rudder, and canoe stern: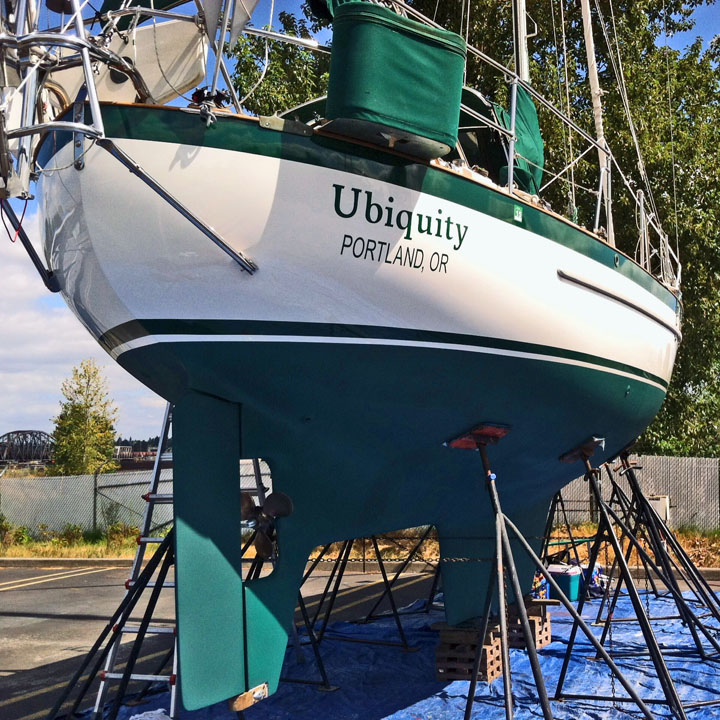 ---
Some Other Specific Equipment Details for S/V Ubiquity:
Mainsail Reefing: The two deep reefs reduce the sail area to 65% / 39% of the total area, from 233 sq. ft. to 152 / 90 sq. ft. For cruising I prefer two deep reefs to the standard three-reef cruising setup.
Rigging Choices: I prefer working the halyards and setting the reefing tack at the mast. I converted the headsail and mainsail halyards to internal, and added an internal boom topping lift / backup main halyard. I added two Andersen 12 ST FS winches on the mast to work the halyards, plus a clutch for the headsail halyard. The lines I run to the cockpit include the main outhaul, boomvang, main topping lift, and the two clew reefing lines.
Self-Steering: A Monitor windvane steers the boat when sailing and consumes no electricity. A below-deck hydraulic ram autopilot is available for steering when motoring.
Hot Water: I removed the hot water tank and gave it to a friend. This gets the tank and the associated hoses out of the way for working on the mechanics; the old hot water tank blocked access to the steering quadrant -- not acceptable in my mind for a cruising boat. My Sunshower, plus hot water from the stove, serve as hot water sources for washing.
Shower in the Head: That I got rid of right away. Getting the head all wet by trying to take an awkward shower in it seems like a bad idea to me. If you do not find taking a shower in the cockpit using a Sunshower delightful as I do, then perhaps you need a much bigger cruising boat with a palatial head, or you could stay in hotel rooms instead of cruising on a sailboat.
Refrigeration: I removed the refrigeration unit, and all of the associated wiring, and gave it to a friend. This greatly reduces electrical consumption, freeing me from being a slave to recharging the battery bank. Plus it frees up storage room. See Beth Leonard's A Voyager's Handbook if you are such a prisoner of modern conveniences that you think you cannot cruise without refrigeration.
Watermaker: A Pur watermaker is available for use in dry cruising locales, such as the Sea of Cortez.
High-Frequency Radio: A high-frequency ham radio and a Pactor modem at the nav station provide for long-distance communications, email, and weather information.
Electronic Equipment: Enhancing safety at sea are digital radar, VHF DSC marine radio with AIS receiver fed to the chartplotter, and AIS transceiver when transmitting position is desired. The AIS chartplotter feed can be selected as from the VHF radio AIS receiver or from the AIS transceiver via a DPDT switch, which avoids a problem of the vessel's own AIS target chasing the vessel and setting off alarms when the transceiver is operating. The chartplotter, radar, and AIS transceiver can all be viewed and controlled not only at the chart table but also above by iPads/iPhones via Wifi connections, with the iPads/iPhones secured in Ram Mounts under the dodger.
Lighting: All lighting, interior and exterior, is LED to minimize electrical use. Red interior LED lighting is used when under way at night. A masthead tricolor light is used offshore instead of the bow/stern running lights. An LED strobe light is at the masthead for use in an emergency.
Navigation: Multiple GPS units provide redundant position fix capability. Four GPS units operate off of the boat's 12v electrical system. Three handheld marine GPS units, several iPhones running navigation apps, iPads connected to a Badelf sensor GPS running navigation apps, and laptop computers connnected to a sensor GPS and running navigation programs, provide more GPS redundancy. A sextant, nautical almanac, and sight reduction apps/programs provide non-GPS backup.
Mast Steps: Mast steps make ascending the mast SO much easier and quicker. I find I go aloft more often, rather than putting it off.
Dickinson Newport Propane Cabin Heater: This heater works excellently and is an appreciated luxury when sailing in cold and wet weather. Sometimes underway at night I keep watch sitting at the top of the companionway with the heater on below, and besides making a difference in comfort the yellow flame provides the ambience of a campfire.
Bilge Pumps: An 800 GPH electric pump at the bottom of the bilge operates by a float switch. Partway up the bilge is a 2000 GPH electric pump operated by a float switch, with an audible alarm sounding if it ever operates. Cockpit manual pump serves as a backup.
Liferaft: An inflatable liferaft came with the boat, and is stored in a hard canister forward of the mast. I share the view of some cruisers that a liferaft may not add to overall safety and could even be a net safety minus. In serious weather conditions offshore I think that successfully launching and getting into the raft would be unlikely and that trying to do so would likely result in death, all the more tragic if trying to launch the raft distracted you from trying to save the boat. Nonetheless, the liferaft provides some psychological comfort when far offshore, and I can imagine an unlikely scenario, such as hitting a whale and sinking in calm conditions, when deploying a liferaft may succeed.
Survival Suits: S/V Ubiquity carries two survival suits, bright red/orange with strobe lights.
Propane Storage: Fiberglass propane locker is external, hung off of the stern pulpit, which I prefer for safety to an internal vented locker. Propane is switched on at the main electric panel, opening a solenoid valve at the tanks. I installed a big red LED warning light, which is on whenever the propane is on, on the panel beside the switch.
Holding Tank: Integral fiberglass tank can be emptied by a deck pumpout or by discharge overboard using a manual overboard pump.
Luke Feathering 3-Blade Propeller: Reduces drag when sailing, and more robustly built than the Max-Prop.
Ship radio call sign: WDG5380
My HAM call sign: KF7QCX
Ship MMSI No.: 367546050

---