Pacific Seacraft 34 Sailboat

The Pacific Seacraft 34, also called the "Crealock 34", was Bill Crealock's design for a slightly smaller and updated version of his classic cruising sailboat, the Pacific Seacraft 37. Pacific Seacraft Corporation's sales brochure called her a "refined sibling", a "slightly smaller sister". Dave Mancini reports that in a conversation he was privileged to have with Bill Crealock, Crealock discussed what he had learned from the 37 design that he used to refine the 34 design.

Crealock described his goals for these cruising designs as "an easy motion, dryness, strength, windward ability, a comfortable deep cockpit, a safe interior and, above all, ease of handling and balance with or without steering aids".
---
A Pacific Seacraft 34 sailboat at anchor in Klashkish Basin, Vancouver Island, Canada, waiting to round the notorious Brooks Pennisula: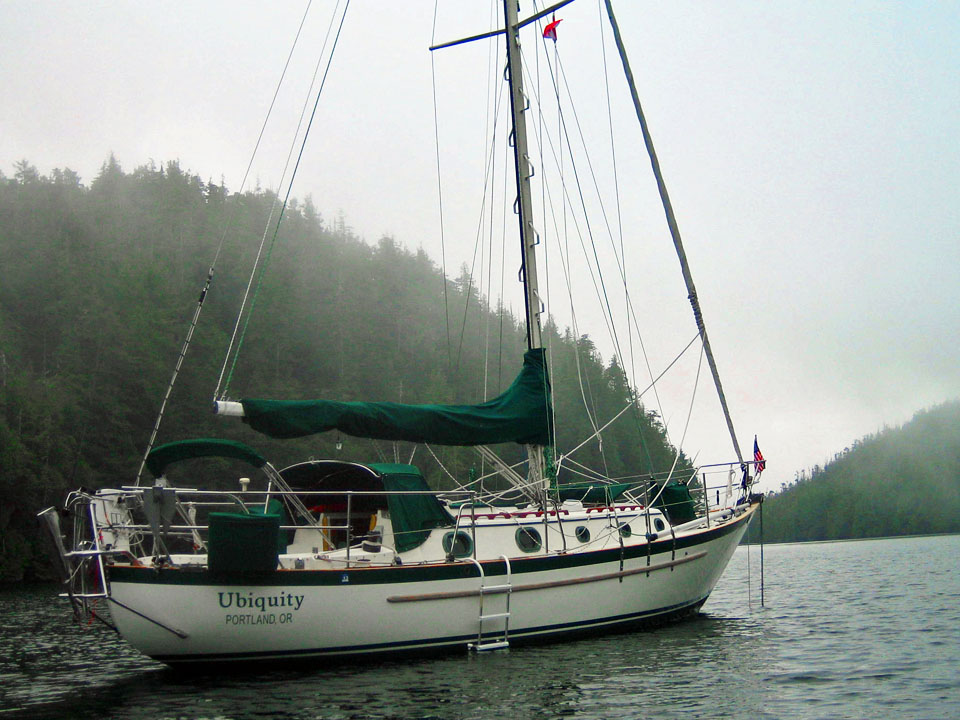 I bought Pacific Seacraft 34 hull #67, built in 1987, for her offshore cruising design and her good construction quality. I named her "S/V Ubiquity", with the hope that other cruisers would see her and say, "There's Ubiquity; she's everywhere!" Then I worked on and outfitted the boat for my post-retirement cruising plans.

See my blog, photos, videos, and where I have cruised my Pacific Seacraft 34.
---

Design Characteristics of the Pacific Seacraft 34 that I Like for Cruising:
Cutter rig provides a flexible sail plan, especially for higher winds. Some owners put the staysail on a furler, but another option is a hank-on staysail with a quick-release staysail stay for quick conversion to a sloop rig.
Elongated fin keel underbody has excellent tracking stability and adequate maneuverability. The underbody has a slight bridge between the keel and the skeg, which shifts the design slightly more towards the traditional side of the full-fin keel continuum (compared, for example, to the Valiant design). Aft of the heavily-built skeg the propeller is in an aperture. The propeller location, in an aperture behind the slight bridge, protects against entanglements such as crab pots.

Seaworthy hull dimensions and design enhance offshore safety and seakindliness. The narrower beam compared to more modern cruising designs reduces interior space and form stability, but creates a seakindly motion and high ultimate stability, with a limit of positive stability of 144 degrees.

Good ability to heave-to on a mainsail only, which adds to off-shore safety and flexibility during difficult weather and sea conditions.

Canoe stern aids control in strong following seas, when as Bill Crealock said your stern will "have to serve as your bow".

Side-deck security enhanced by a bulwark, outboard shrouds, and extra-high lifelines.

Good anchor platform with stout bow rollers, large anchor locker, hawsepipes, deck pipes, horn cleats with backing plates, good windlass placement, and good foredeck space and security.

Stout opening portlights provide offshore security and ventilation at anchor and in the marina. Older Pacific Seacraft models have oval bronze portlights, whereas newer models have rectangular chrome-plated portlights incorporating better drainage.

Small Size, by today's standards for a cruising boat, still meets my space and carrying capacity requirements. A smaller size costs less and is easier to handle, especially when sailing short-handed or older in age.

Aesthetics that I find pleasing.

Pacific Seacraft 34 Reviews and Information:

Specifications (approximate) for Pacific Seacraft 34:
13,200 lb. displacement
4,800 lb. external lead ballast
34' 1" overall length, 26' 3" water-line length
10' maximum beam
4' 11' fin keel (5' 0" when loaded for cruising), 4' 1" scheel keel
47' total air draft (vertical clearance including 3' VHF antenna)
6' 3" interior head room
600 sq. ft. sail area (cutter with working jib, staysail)
300 sq. ft. wetted surface area
Tankage: 75 gal. water, 32 gal. diesel (27 gal. sheel keel), 16 gal. holding
Yanmar 3HM35F diesel engine (1987 model)

34 hp 1-hour rating (3400 rpm)
30 hp continuous (3200 rpm)
(Later models have slightly more hp.)

Performance Statistics (approximate) for Pacific Seacraft 34:
144 degrees, LPS, limit of positive stability
6.9 knot (7.9 mph), hull speed
330, D/LWL, displacement to length of water line
15-19, SA/D, sail area to displacement, (depends on sail configuration)
1.8-2.2, SA/WSA, sail area to wetted surface area, (depends on sail configuration)
195-204 PHRF handicap (varies for different racing fleets)
1.6, CR, capsize risk
33, MC, motion comfort
.05, RA, roll acceleration
3.9, RP, roll period
940, P/I, pounds per inch immersion

Sailing Characteristics of the Pacific Seacraft 34:
Below you can see videos showing the Pacific Seacraft 34 sailing in different conditions, on different points of sail, with a variety of sail configurations, and with different types of steering (windvane, autopilot, manual, and locked).
My experience has impressed me with the virtues of the Pacific Seacraft 34 as an offshore boat. She tracks well and can steer to weather with the helm locked, yet has acceptable maneuverability in the marina. Her motion in a seaway is easy. She heaves to on a mainsail (usually reefed) alone. Whereas more performance-oriented cruisers would prefer a lighter fin keel design, and more traditionally-oriented cruisers would prefer a heavier full keel design, for me the Pacific Seacraft 34 occupies the sweet spot for offshore cruising, especially for an older person cruising with one crew member or perhaps alone.

Heaving-To the Pacific Seacraft 34 on Mainsail Only:
My cruising friend Dave Mancini first alerted me to how well the Pacific Seacraft 34 design could heave-to using mainsail, usually reefed, alone (See the link to Dave's web site above, and also the video above of S/V Ubiquity hove-too on mainsail alone).
This characteristic saved me after getting hurt trying to round Cape Blanco off the Oregon coast. In much stronger conditions than in the hove-to video shown above, the boat stayed hove-to all night while I lay on the cockpit sole in my foulies recovering from a head injury.
You can read about that incident on my sailing blog, and you can see my injuries the next day, after on-board first aid.
---
On the hard, showing her underbody design with elongated fin keel, slight bridge to the skeg, propeller in an aperature, skeg-hung rudder, and canoe stern: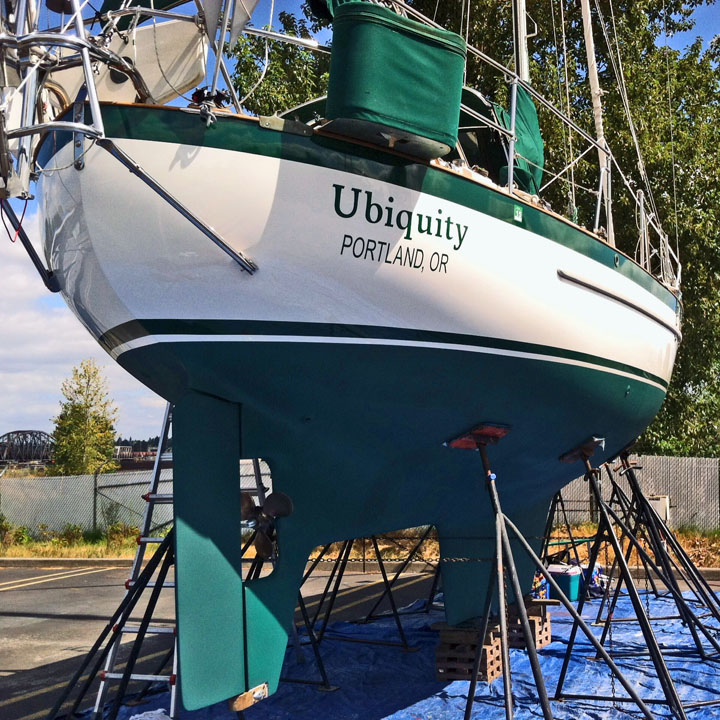 ---
Equipment and Outfitting Details for S/V Ubiquity, my Pacific Seacraft 34 :
(Many with photos, so click on the links.)
---
Big following seas rushing by south of Cape Mendocino: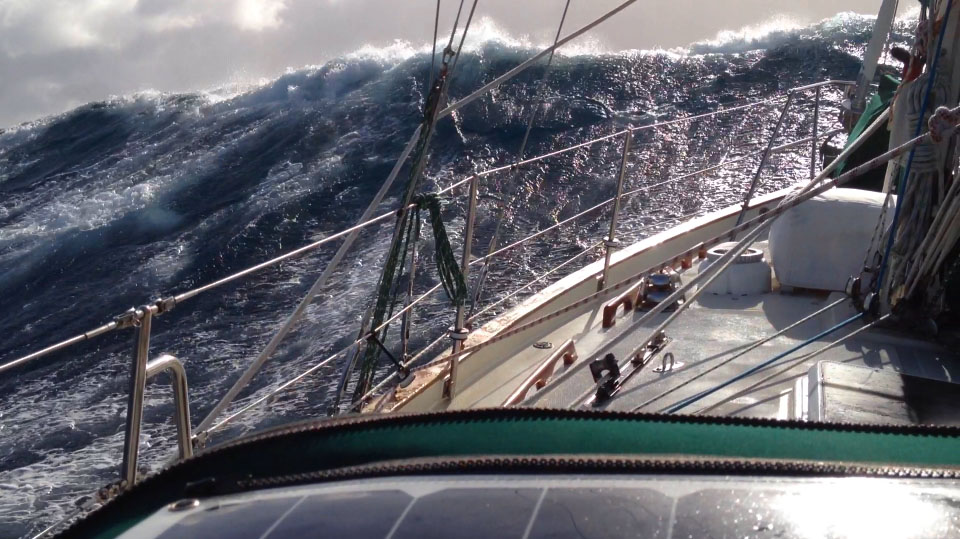 ---
Sailing as cutter at sunset, Sea of Cortez, Mexico: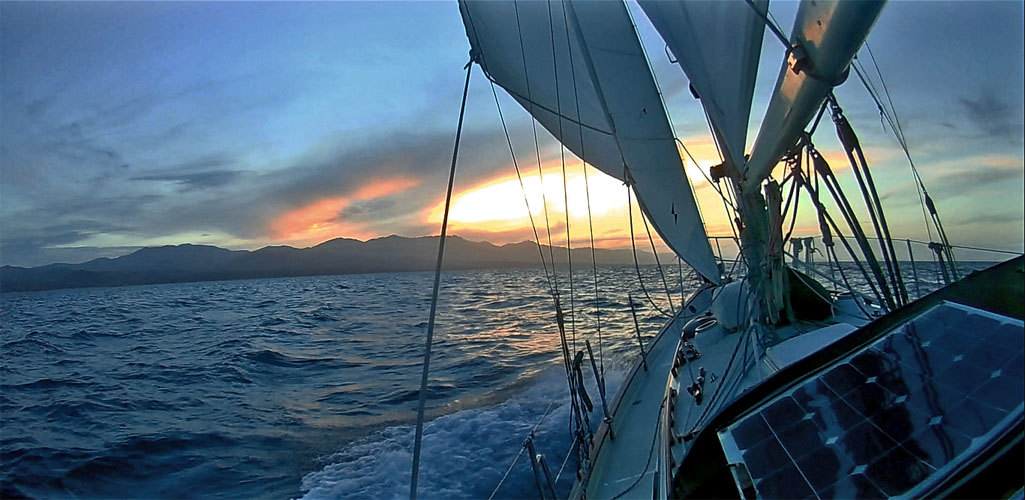 ---
Sailing on the Columbia River in light winds:
---
Sailing on the Columbia River for a meetup introduction to sailing class outing:
---
Flying asymmetric spinnaker (left), and beating (right) in very light air with the drifter on the Columbia River, sailing class outing:
---
Two photos (on left) show S/V Ubiquity sailing off Port Angeles before she received her new white paint job (Photos taken by my friend Dave Mancini, sailing his sister ship, S/V Swan). Photo (on right) shows S/V Ubiquity at the dock with Yankee and staysail hoisted:
---
Sailing as a cutter off the Washington coast, beating into winds in the 20's, Yankee headsail sheeted to inside track, toerail in the water: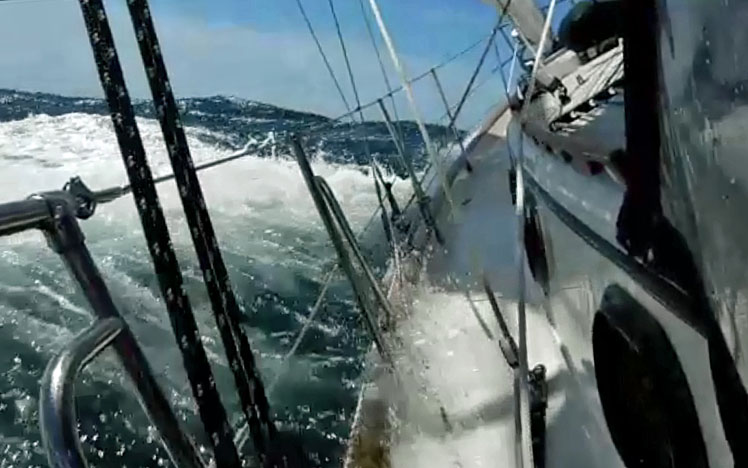 ---
At anchor, Isla San Cosme, north of Aqua Verde, Sea of Cortez, Mexico: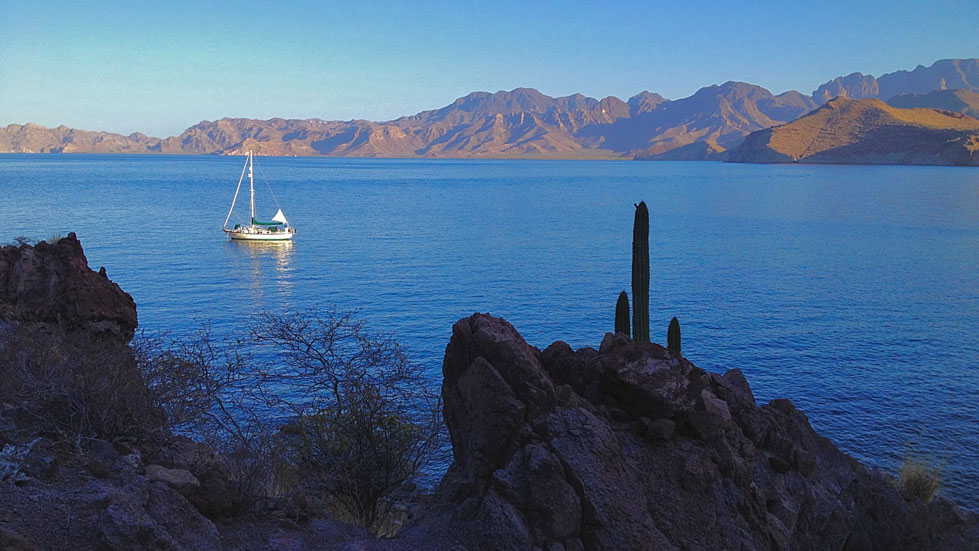 ---