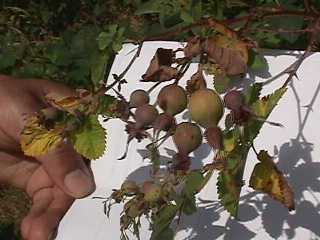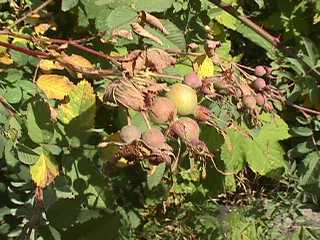 ---
General Species Description
Rosa pisocarpa is a shrub standing 1-2m tall. The stems are dark red, and intertwining with small straight prickles.
---
Leaves
This shrub has alternate, pinnately compound leaves, with 5-9 leaflets. They are serrated and sharply pointed at tip.
---
Inflorescence/Flowers
The flowers are pink to a deeper rose color, less than 4-5cm across, with 5 petals.
---
Fruits
Fruits are egg-shaped, reddish-purple, with sepals attached to the tips.
---
Habitat
Peafruit rose can be found in moist thickets, along stream banks, and swamps. It is also shade tolerant.
---
Range
The range of this shrub is from southern British Columbia to northern California and west of the Cascades.
---
Similar Species
Ribes species can be confused with Rosa pisocarpa, because they also have bristly stems, yet they do not have compound leaves.
---
Ecological Value
Fruits are consumed by various animals and upland game birds. Leaves and twigs are eaten by browsers. The thickets provide excellent nesting and escape habitat for songbirds.
---
Human Value
Hips can be made into tea, and the rinds of hips can be eaten raw, both a source of vitamin C. Can be used for hedgerows or ornamentals.
---
References
Cooke, Sarah. A Field Guide to the Common Wetland Plants of Western Washington and Northwestern Oregon. Seattle Audubon Society, 1997.
---
This page was created by: Christina Norton, August 2000
---
Return to Northwest Oregon Wetland Plants Project