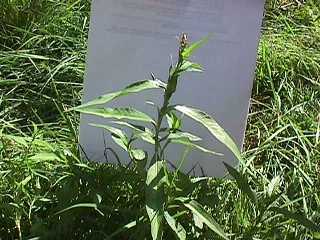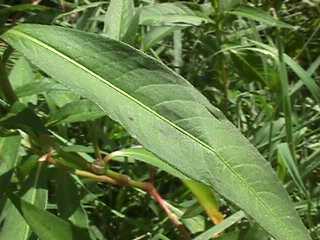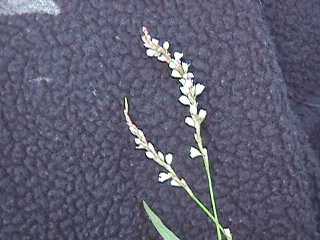 ---
General Species Description
A smooth to sparsely hairy annual herb. It is erect, and leafy-stemmed. Look for them just above ankle height.
---
Leaves
Leaf stalks are short and thick, with alternate leaves, lance-shaped, with smooth margins and sheathing stipules. The most important identifying characteristic of this herb is a dark purple blotch in the center of the leaf, sometimes blended in well.
---
Inflorescence/Flowers
Flowers are pink with a little bit of green, and they are very small, 2-3.5mm long. Blooms from March through September.
---
Fruits
Fruits are shiny and black, round to oval shaped, 2-2.5mm long.
---
Habitat
Can be found in moist to wet disturbed areas, especially in cultivated wetlands with standing water.
---
Range
Ladysthumb is common throughout North America, yet occurs most commonly west of the Cascades.
---
Similar Species
As long as you have found the dark purple blotch on the leaf, and can identify the flower, you have your ladysthumb.
---
Ecological Value
Foliage is edible and is used by wildlife.
---
Human Value
Ladysthumb can form thick mats in aquatic or semi aquatic habitats, so it is helpful for erosion control.
---
References
Cooke, Sarah. Field Guide to Common Wetland Plants of Western Washington, and Northwestern Oregon. Seattle Audubon Society, 1997.
---
This page was created by: Christina Norton, August 2000
---
Return to Northwest Oregon Wetland Plants Project