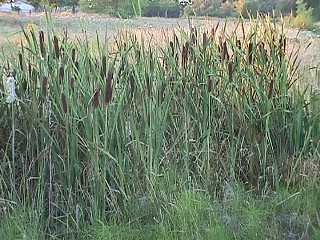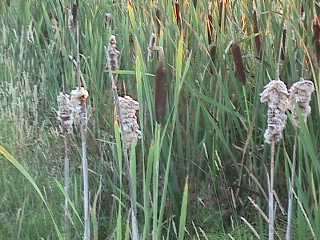 ---
General Species Description
Typha latifolia
is a mash or aquatic herbaceous perennial, which grows 1-3m tall. The stems are pithy and the plant grows from rhizomes.
---
Leaves
Sheathing, flat (convex on outer surface), 8-20 mm broad, 1.5 m long, with a bluish green cast, somewhat spongy and alternate in arrangement.
---
Inflorescence/Flowers
The inflorescence is in a spike that has male flowers above and female flowers directly below, both of which are very small. The female flowers turn dark brown with maturity and are persistent and the male flowers shed leaving a bare stem tip. Blooms from June through July.
---
Fruits
Small nutlets about 1mm long, with numerous long hairs at the base that carry them in the wind at maturity.
---
Habitat
Found in fresh water aquatic or marsh like areas. Commonly produces single species stands.
---
Range
This plant can be found in all counties in northwestern Oregon. Also grows as far north and south as Alaska and Mexico, and throughout the United States.
---
Similar Species
If no flowers are present this species could be confused with Iris psuedacoras. Although the Iris has a flattened leaf sheath, and leaf tips that are more rounded. The flower of Iris yellow.
---
Ecological Value
Typha latifolia
provides important habitat and food for wetland animals, including waterfowl and muskrats.
---
Human Value
Many coastal tribes used the leaves of Typha latifolia for weaving mats, and as insulation for their winter homes. The seed fluff was used for such things as pillow and diaper stuffing and wound dressing.
---
References
Cooke, Sarah. 1997. Wetland Plants of Western Washington and Northwestern Oregon. Seattle Audubon Society, Seattle, Washington.

Gilkry, H.M., L.J. Dennis. 1967. Handbook of Northwestern Plants. Oregon State University Bookstores, Corvalis, Oregon.

Pojar, J, and A. Mckinnon. 1194. Plants of the Pacific Northwest Coast. B.C. Ministry of Forests and Lone Pine Publishing.
---
This page was created by: Aaron Nepple, August 2000
---
Return to Northwest Oregon Wetland Plants Project