G446 / G546 Meteorites
Winter Term 2022
MWF 10:15 - 11:20 am, CH 69

A. Ruzicka (+ big iron meteorites + muffin)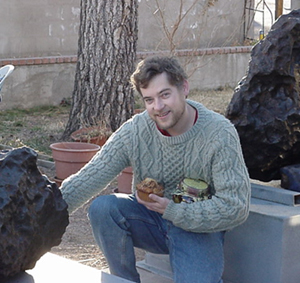 e-mail: ruzickaa@pdx.edu
Images of two very different meteorites, the Murchison (CM2) chondrite at left, and the Henbury (IIIAB) iron at right [images: A. Ruzicka].
Murchison was derived from an asteroid that never melted, and which was rich in water and organic
materials. These organic materials provide evidence for pre-biotic synthesis of organic molecules,
which appear to have formed originally in the interstellar medium.
Bright spots in the meteorite are chondrules and refractory inclusions; fusion crust is the
brown coating at left.
In contrast, Henbury was derived from the core of a melted asteroid.
The core cooled very slowly (roughly 1 degree C per million years!) owing to its deep burial in the
parent body. This slow cooling enabled the low-nickel metal alloy mineral kamacite to exsolve from the
high-nickel metal alloy mineral taenite, producing the intergrowth pattern (Widmanstatten texture) obvious
in the image.
---
Course information
Syllabus. (PDF file, posted Dec 30 2021; revised Jan 3 2022)
Here is a meteorite image gallery for some (admittedly mostly not very good) photos I quickly obtained from the web. (Posted Dec 30 2021)
For the Bell et al. (1989) reading, feel free to skim/skip pp. 926-932 for Sec. II. I'm mostly interested in discussing the 'big picture' idea that is the centerpeice of this arguably forgotten article. (Posted Dec 30. 2021)
For the

Brearley (2006) reading

, feel free to skim Sec. 3, 5, and 6. (Posted

Feb. 11, 2022)
Final Exam.

The Final Exam is ready for you take. Check out Canvas for more details, and good luck! (Posted Mar. 14, 2022)
Grades have been submitted.

Attendance wasn't curved; all other items were. Score distributions are given below. Looking at Canvas, it will be easier to send you emails with your scores and grades, so expect to receive an email from me. If you want to pick up your work, please contact me and arrange a time next term. Thanks for participating in the class. I know it was challenging, but I hope you learned a lot. All of you undergraduates are now in good shape for graduate level work if that is your inclination. Have a great Spring Break and Spring term! (Posted Mar. 21, 2022)

---
Glossary and concepts
---
Other reference materials
---
Homework assignments
Homework 1. Due Jan 5 2022. (Posted Dec 30 2021, due date revised Dec 31 2021)
---
Score distributions and answer keys
Midterm Exam Distribution. Here it is, finally. It might be helpful to have this before you take the Final Exam. (Posted Mar 4 2022)
---
Last updated: Mar 21 2022