Bringing Physics to Life - Changing the Way Pre-Health Students Study
Pre-Health and Life Science majors make up a large percentage of students taking algebra based General Physics courses. To better prepare students for advanced studies and careers in these fields, we developed modular multimedia educational materials which include videos containing interviews with biomedical experts, images, and videos of biomedical devices in clinical use. We collaborated with a large network of educators, physics and biomedical researchers, education researchers, and medical practitioners to produce engaging materials. The resulting videos, homework, and labs provide physics faculty with the tools to teach these topics even when access to biomedical experts is limited. The online format of our multimedia modules is portable and allows us to reach a broader community of educators resulting in access by more students. We continually evaluate students' attitudes toward the modules in comparison to traditional introductory physics courses so that we may maintain engaging, current, and relevant offerings.
---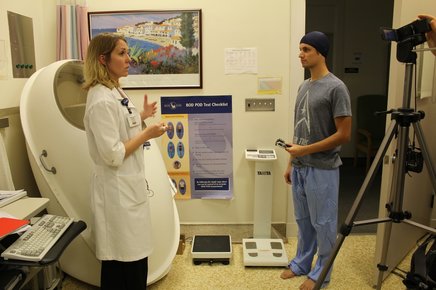 ​
A series of videos were created and posted on
YouTube
. The videos are intended as a pre-lecture activity allowing students to be introduced to the topic by an expert in this field of study before they come to class. Each video is brief and succinct allowing students to easily refer back to a particular topic for clarification and deeper understanding. Pre-lecture questions probe students' understanding of the video content and a supplemental original text explains the core physics and biomedical concepts in detail. Lastly, there are checkpoint questions which verify students' understanding and focus classroom instruction.
Instructors: Please contact ralfw@pdx.edu for access to curricula materials like course manuscript, pre-lecture and homework assignments.
​