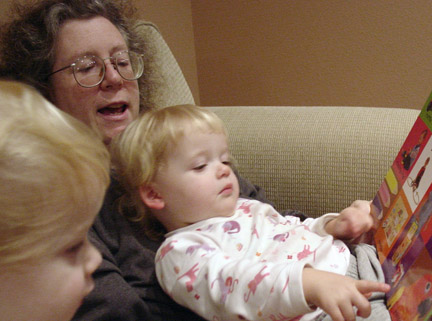 Me reading to Cathrine, with Christopher watching - 11/30/2008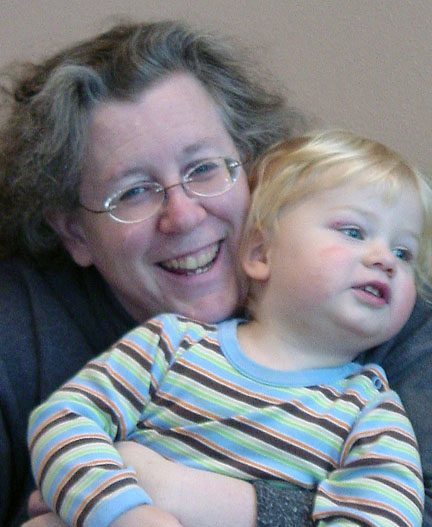 Me with Christopher - 12/20/2008

Me with Christopher and Catherine - 07/02/2007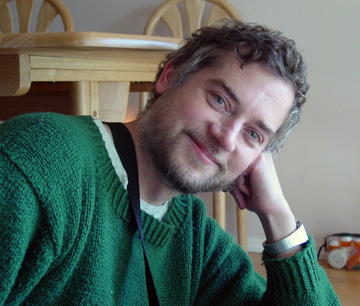 Alex Ruzicka, husband, fellow researcher - 03/25/2007
I have always been interested in space, graduating as a child from fairy tales to science fiction/fantasy. I entered college wondering which field would most satisfy my interests. Geophysics won out over Physics or general Geology. The view of the Earth as a planet, with global processes (plate tectonics) causing much of the awesome and deadly geologic processes fascinated me. I like looking at "the big picture". My choice of major was fortuitous in another way--I met my husband Alex Ruzicka in a geology class. I spent a summer looking at Martian Crater Rims as part of a NASA undergraduate internship, and went from partially to completely hooked on planetary science/geology.

I received my M.S. degree in Earth and Space Sciences from SUNY/Stony Brook, where I met and worked with Robert (Bob) Dodd, whose book (Meteorites: A Petrologic-Chemical Synthesis) is still considered a valuable resource in the field of meteoritics after several decades. During this time, I became intested in classification of meteorites and in the effects of shock on meteorites.

I went on to the University of Arizona to receive a Ph.D. from the Department of Planetary Sciences (with a minor in Geosciences). Here I worked with John Lewis on a multi-faceted project involving enstatite chondrites and processes occurring during the formation of the solar system, such as condensation modeling.

I moved to Portland Oregon in 1996 to teach at Portland Community College. In 2001, I started teaching courses at Portland State University. That same year, I teamed up with my husband Alex Ruzicka and with Dick Pugh to form the Cascadia Meteorite Laboratory. I serve as the lab's curator, and do most of the classification work done at our lab. I have worked (and am continuing to work) with Alex on a number of grant-funded research projects, as well as on numerous unfunded "mini-projects", in which costs have been covered by public donations. I also assist Dick with our lab's education outreach program, helping prepare materials, and giving lectures to various groups on occasion.

My life became quite a bit more hectic on February 22, 2007 when my twins were born. Catherine and Christopher have definitely decreased Alex's and my work (and sleep) time. It has been amazing to watch them blossom from helpless little "lumps" to the far-more sophisticated toddlers they are today. I'm seeing glimpses of the people yet to come. Christopher is studious, cautious and has inherited his father's sense or orderliness. He already complains when his sister makes a "mess". Catherine plunges into everything head first without any fear at all. I'm afraid she may rule the world by the time she's 30.