Organic Chemistry II

Professor Carl C. Wamser
Exam 1 Answer Key
1. (15 points) Write complete names for each of the following, including stereochemistry if it is specifically shown.
a)

(S,Z)-4,7-dibromooct-6-en-1-yne
b)

(S)-3-chloro-1,3-dimethyl-1,4-cyclohexadiene
c)

4-(3-cyclopentenyl)-3-butyn-1-ol
---
2. (15 points) Write accurate structures for each of the following:
a) allyl fluoride
CH2=CH-CH2-F
b) vinyl chloride
CH2=CH-Cl
c) the HOMO of 1,3-butadiene (its orbital symmetry)

d) both enantiomers of 2,3-pentadiene

e) the enol of dimethyl ketone

---
3. (15 points) Complete the following reactions by adding the missing part(s): either the necessary reagents and conditions or the expected major product.
(6 pts)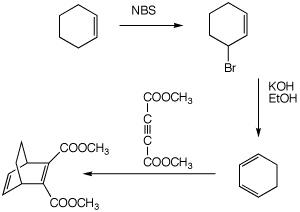 (6 pts)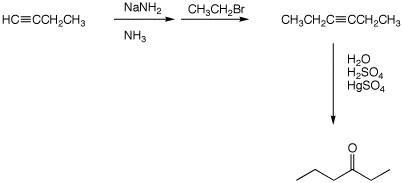 (3 pts)

---
4. (16 points - 4 pts each)
a) Calculate the Index of Hydrogen Deficiency for a compound with the formula C7 H11 Cl3 O2
and describe the significance of the result. Write at least one compound consistent with the formula.
IHD = 1 , indicating a ring or double bond

lots of possible isomers, such as:
b) Draw a typical 1H NMR quartet and indicate the place(s) where the coupling constant (J) could be measured.
J could be measured as the spacing between any of the adjacent peaks
c) Butane gives a mass spectrum with major (m/z) peaks of 58, 57, 43, 29, and 15.
Identify the likely structures of each of those ions.
CH3CH2CH2CH3+. (m/z) = 58 (parent molecular ion)

CH3CH2CH2CH2+ (m/z) = 57 (could also be sec-butyl cation)

CH3CH2CH2+ (m/z) = 43 (could also be isopropyl cation)

CH3CH2+ (m/z) = 29

CH3+ (m/z) = 15
d) Predict the expected 13C NMR spectrum of ethylbenzene. Indicate the number of unique absorptions and their approximate chemical shifts.
6 different absorptions: CH3 (0-35 ppm), CH2 (15-40 ppm), aromatic (110-175 ppm)
---
5. (20 points) Write a complete mechanism for the addition of HCl to 2,3-dimethyl-1,3-butadiene.
Show the intermediates expected and all resonance forms.

There are two products formed, A and B. A is the major product at low temperatures and B is the major product at high temperatures.
Identify the structures of A and B, and indicate which is the kinetic product and which is the thermodynamic product.
Write a potential energy diagram that illustrates why the different products arise under different conditions.
(see page 407 in your text)
---
6. (19 points) Identify the unknown compound based on the following information.
For each piece of information, indicate what you conclude about the structure.
UV - no absorption above 200 nm
no pi bonds
IR - no absorptions in the range 3000 - 4000 cm-1
no O-H bonds, or C-H bonds on sp2 or sp carbons

no absorptions in the range 1600 - 2800 cm-1

no double or triple bonds
MS - molecular formula C6 H13 Br O
IHD = 0 (no rings or pi bonds)

major fragment appears at (m/z) 101

C6 H13 O - compound with Br removed (stable cation)
1-H NMR
a - 1.1 ppm, 3H, triplet
b - 1.7 ppm, 3H, singlet
c - 1.9 ppm, 2H, quartet
d - 3.3 ppm, 3H, singlet
e - 3.9 ppm, 2H, singlet
---