---

Chapter 7 Quiz

1. (4 points) Write out names and structures for all of the possible monochlorination products of methylcyclopentane. Consider racemic products as just one product. If the selectivity for 3° > 2° > 1° hydrogens is 5:4:1, calculate the expected ratio of products (ratios or fractions or percentages).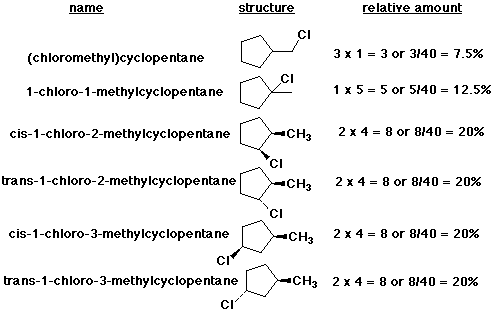 ---
2. (4 points) Write a complete mechanism for the free radical bromination of methylcyclopentane. Just show the pathway to the major product. Include all steps including termination.

---
3. (2 points) Calculate delta H for the following reactions.
a)

1° C-H bond broken (+100) and H-F bond made (-136)
delta H = - 36 kcal/mole
---
b)

1° C-H bond broken (+100) and 1 C-F bond made (-106)
delta H = - 6 kcal/mole
---